Employee Highlight – Celebrating the 30 Year Career of our Senior Technical Sales Engineer, Jim Province

Thirty years ago, we made one of the best business decisions when we extended a job offer to Jim Province.
Little did we know back then that Jim would become such an intricate part of our organization, and that today we would get the chance to celebrate his thirtieth year with us.
Jim symbolizes dedication, honesty, and commitment to providing the best possible service to our clients. Not only is Jim one of the most dedicated professionals in the industry, but he also happens to be an outstanding human being, as we are fortunate to call him a friend.
We are sure all of you have had the chance to work with Jim in some capacity and know what a great professional he is, but today we want to give you an opportunity to get to him better.
For this, we sat down for a one on one conversation with Jim; here are some of the highlights of our interview.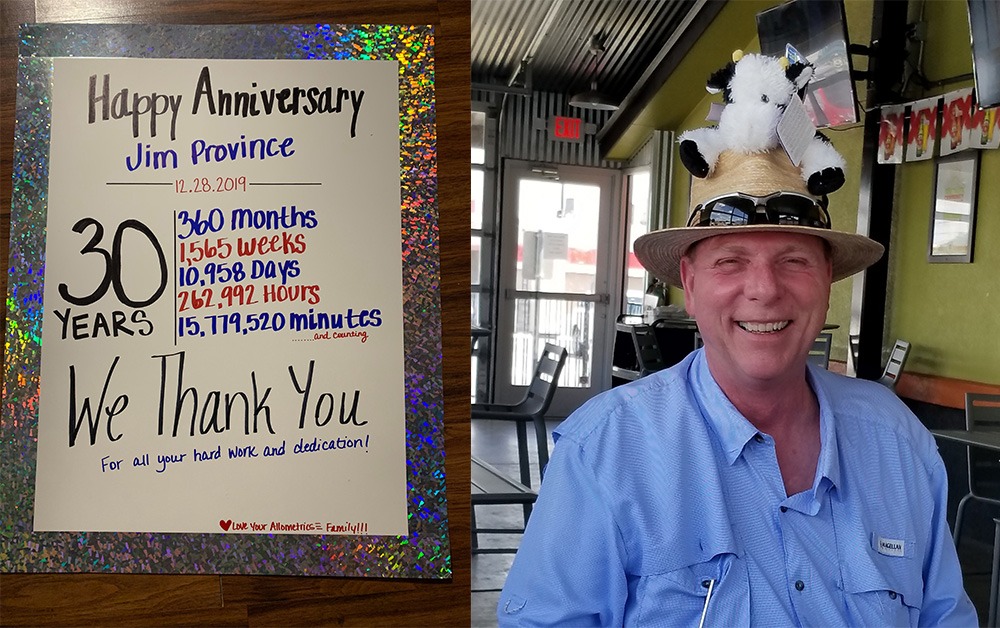 Jim Province in His Own Words
Q/ Where did you grow up?
Jim/ I grew up in the Pacific North West. As a child, it was like living in a winter wonderland, but as an adult, It's way too cold.
Q/ As a child, what did you dream of becoming when you grew up?
Jim/ I was fortunate to grow up watching all the Apollo missions in the late 1960s and early 1970s. So, it is no surprise that I wanted to become an Astronaut.
Q/ Where is home now?
Jim/ Houston, TX.
Q/ If you had the chance to meet with your younger self, what advice would you give yourself?
Jim/ Stay focused on school and pursue your dreams. Stay away from girls.
Q/ What do you like doing when you are not working? Tell us a little about your hobbies and interests
Jim/ My wife and I have always loved growing our food. We always had a large garden and still have our canning system.
As we've grown older, we've passed the passion for gardening on to our children. But we will make jellies and process vegetables from time to time from friends and family gardens though.
Q/ What would be a good quote to describe you personally or one that you relate to.  It could be from you or someone else.
Jim/ Find a job you enjoy doing, and you will never have to work a day in your life. (Mark Twain)
We won't pry into your personal life much more, let's get to know you on a more professional level.
Q/ What can you share with us about your studies, specialties and your work experience?

Jim/ I was on an aircraft carrier for four years in the US Navy. I worked in the control center for Continental Airlines for eight years. I was the Media Minister for Humble Area First Baptist Church for five years.

I have a degree in Electronic Engineering which I've used to help me succeed in my thirty-year career with Allometrics.

Q/ Why did you decide to go into your career?

Jim/ When I received my degree, I wanted to continue working for Continental Airlines in the avionics department. At the time, they didn't have a position for me, so I started looking for a job in my field.

I interviewed with several companies, including Goodyear as an avionics technician for the Goodyear Blimp. The blimp base was moving to St Louis so it wouldn't have worked out for my family.

That's when I interviewed for the field service technician position for Allometrics and fell in love with the work.

Q/ Who would you say has been your most significant influence or your mentor?

Jim/ I have a friend that is eighty-five years old. He retired from the fire department and, using his pension, bought sixteen houses as rental property.

Because of him, I discovered my passion for fixing and building things. He demonstrated how to be an excellent father too. Because of his mentorship, I have been able to achieve longevity in both my personal and professional life.

Q/ What do you consider to be your biggest successes in life?

Jim/ Without a doubt, being married to my beautiful wife for thirty-three years, raising two fantastic daughters and helping to mentor four beautiful grandchildren is my greatest achievement in life.

Q/ In your opinion, what does it take to be successful?

Jim/ I've always believed that to be successful in life and business, you must take ownership of what you do. You need to learn from your mistakes and do your best not to repeat them.

A smile and a friendly attitude don't hurt either.
And from what we've experienced in these thirty years, you've got the best attitude and plenty of smiles for everyone you encounter. It's a real joy to work with you Jim, thank you!
Q/ How would you describe yourself as a professional?

Jim/ My goal is to provide high-quality calibrations and products at a reasonable rate for all my customers.

I've always been honest with my customers about our capabilities and the capabilities of the products we sell. My customers trust me to deliver what they need at a fair price in a reasonable time frame.

Now, let's talk about your extraordinary career at Allometrics.

Q/ How did you first hear about Allometrics?

Jim/ I first learned about Allometrics through an employment add in the Houston Chronical.

Q/ When did you start at Allometrics?

Jim/ November of 1989.

Q/ How would you describe the Allometrics company culture?

Jim/ Friendly and Cooperative. We work as a team to help our customers deliver a quality product to their customers.

Q/ One final question, what do you love most about working with Allometrics?

Jim/ I like solving problems for people. When a current or new customer approaches us with a problem that needs solving, we swing into action.

Recently, one of my customers approached me with the necessity to get a new lab up and running in three months.

We had a shell to work with. Using my contacts in the world of analytical instrumentation, we were able to acquire, install and certify everything with two days to spare. He was very happy and appreciative.

Happy 30 Year Anniversary, Jim!
These days it's rare to see talented professionals commit to a company for thirty years.
Jim, we cannot thank you enough for your contribution in making Allometrics the success it is today, it is because of team members like yourself that we know we will continue to grow and improve as a company.