As the COVID-19 pandemic continues to spread across the country, manufacturing plants are facing significant operational challenges.
While some companies had to close or minimize their operations, others experienced a significant workload increase in response to the high demand for essential supplies.
As states slowly reopen their economies, manufacturing plant leaders are coming up with strategies to operate through the crisis, focusing on protecting frontline workers and the general public.
A comprehensive strategy should focus on three main areas:
Protecting the workforce – Standardizing operating procedures, processes, and tools that help keep staff safe
Managing risk – Formulate contingency plans based on potential changes and how the company should react to them
Driving productivity – Managing plant performance while maintaining recommended physical distancing
Protecting the Workforce
The primary goal of manufacturing plant leaders needs to be the necessity of keeping their employees safe while working in an environment where repeated outbreaks are not uncommon and pose a persistent threat.
The best strategy to achieve this is for companies to deploy a comprehensive set of internal policies and workplace guidelines that includes the following:
Providing workers with personal protective equipment (PPE) when necessary
Modifying the workspace to adhere to the recommended physical distancing between employees
Enhancing personal hygiene measures
Scheduling periodic surrogate bacterial and air sampling tests as well as molecular testing for COVID-19
Calibrating all pertinent manufacturing equipment
Two-Way Communication is Essential
During these trying times, it's understandable that employees will have many concerns, from job stability concerns to questions regarding new safety guidelines.
Open communication between plant supervisors, managers, and frontline workers can help minimize the risk of infection as well as significantly lower workplace injuries.
Plants who have implemented communication channels report absenteeism among frontline employees decreased significantly and higher productivity resembling those of pre-crisis. Additionally, enhanced communication enables employees to voice their concerns unrelated to the pandemic, allowing leaders to address issues that may be negatively impacting the company's productivity.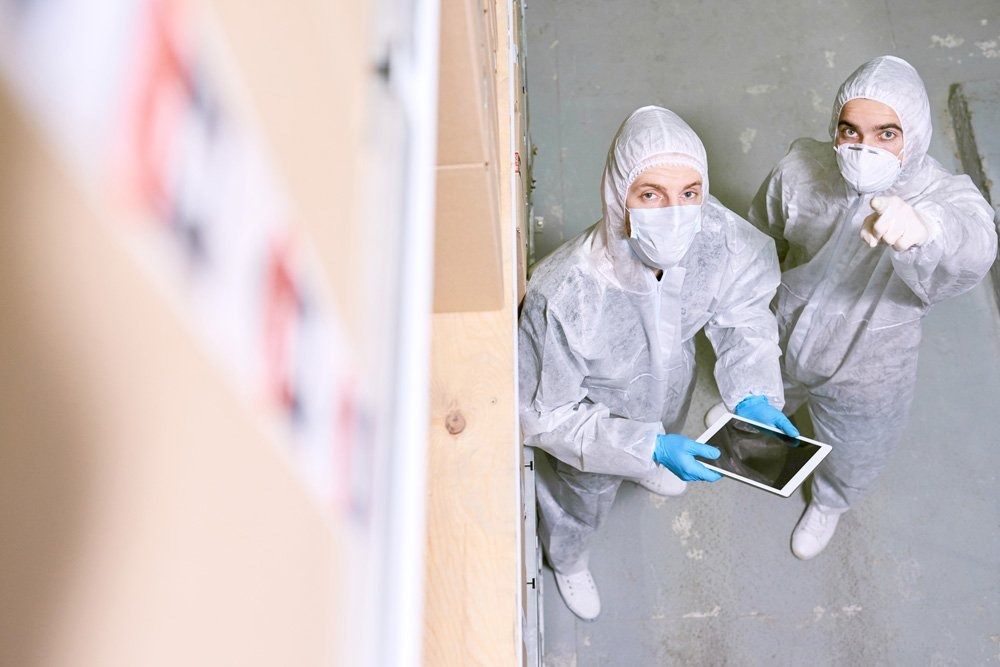 Enhanced Cleaning Protocols and Surface Testing
To help keep staff safe over the long term and comply with the guidelines stipulated by government health officials and the US Department of Labor, manufacturing plans need to revise their cleaning protocols.
Everything from cleaning intervals, disinfectant products, and retraining of custodians requires reviewing to identify deficiency within the current cleaning protocols.
Still, even the most thorough cleaning protocol can leave workers exposed to harmful environmental bacteria and viruses, including SARS CoV-2, the virus responsible for the COVID-19 illness.
To effectively ensure the safety of any work environment, periodic bacterial and virus testing is required.
Surrogate bacterial and air sampling test provides an essential overview of bacterial count in a specific area. It can help shed light on how effective the current cleaning procedures are and which areas need reinforcing.
Surrogate bacterial sampling will not determine the presence of SARS CoV-2, but it can offer a critical assessment of the risk of its presence on the manufacturing floor.
If COVID-19 is the real concern among manufacturing managers, then Allometrics molecular testing for COVID-19 is the ideal solution.
By swabbing high contact surfaces within the plant, our trained technicians can collect samples to send to a specialized lab to determine the presence of SARS CoV-2.
Both the surrogate bacterial and air sampling tests and the molecular testing for COVID-19 are cost-effective, minimally disrupting, and offer a fast turnaround.
Allometrics bacterial and COVID-19 testing capabilities can provide peace of mind for manufacturing plant managers and workers, as well as prove compliance with local and federal health guidelines.
Call today to schedule an appointment with one of our experts; we are here to help!