Perfecting the Art of Calibration Services Since 1976
We specialize in premium end to end calibration services for an ever-growing array of industries, devices, specialties, and unique needs. With our flexible client services, including pick-up, on site and mail-in options, our laboratory instrument calibration services give thoughtful attention to our customers' quality and efficiency needs.
Our mobile service provides maintenance and calibration for your facility bringing our expertise directly to your door. Our mobile units are equipped to calibrate, certify, repair and install your critical equipment.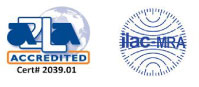 ACCREDITED LABORATORY
A2LA has accredited
ALLOMETRICS, INC.
for technical competence in the field of
Calibration
Air Flow/Velocities
Gravimetrics
Mass
Dimensional
Torque
Controlled
Environments
Temperatures
Pressures
Volumetrics
Electronics
Don't think we can certify your equipment? Contact Us!